Aromatherapy Jewelry Press Release
Charlotte Howard Introduces a New Line of Aromatherapy Jewelry from HealthSpring Essentials
February 20th, 2011 - Sedona, Arizona
HealthSpring Essentials is pleased to announce the launch of a new line of aromatherapy jewelry. Designed to combine healing essential oils with fashionable accessories, this collection is comprised of unique glass pendants and miniature ceramic amphora necklaces.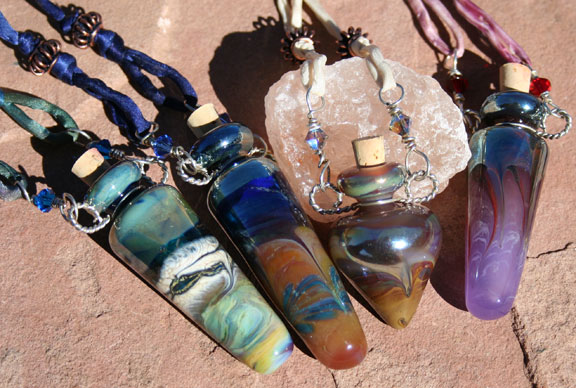 Charlotte Howard, owner of HealthSpring Essentials, has created a unique collection of artisan glass aromatherapy necklaces for the aromatherapy enthusiast. Featuring handmade lampwork glass vials that are topped with natural cork, these one-of-a-kind pieces are a new way to wear healing essential oils.
The Problem: Traveling with essential oils is cumbersome at best. Multiple glass bottles that need to be kept upright and secure in one's purse or bag can be a headache when one is going to work, shopping, or on vacation.
The Solution: Aromatherapy Jewelry. Aromatherapy jewelry is not new. But, seeing the same stuff everywhere on the web can be disheartening to the aromatherapy devotee. Combining healing aromatherapy with fashion is the natural next step for the woman who uses essential oils everyday. Discrete or dramatic, earthy or sophisticated, small or large – Howard has assembled a variety of new aromatic necklaces to complement the aromatherapy lover's wardrobe.
The aromatherapy pendants, amphoras, and lockets come in every color and hang from strong, very soft, silk cord that is hand-dyed and hand-sewn, or from sterling silver chain. Carefully chosen beads of glass, sterling silver or copper adorn each piece of jewelry.
Asked why this line was created, Howard responds, "With so many people into aromatherapy these days, including myself, I created a line of really beautiful pieces, something different for the woman who is passionate about aromatherapy and beauty. I kept seeing the same sort of jewelry out there, and it wasn't very exciting, or fashionable."
Supporting local artists is also a passion of Charlotte Howard's. Sourcing handmade glass from the Pacific Northwest and Hawaii, copper work from Sedona, AZ, silver from Bali, and hand-sewn pure silk cord from California, is an integral part of the creative process.
"I am always working with local artists to create unique and powerful pieces. My goal is to present their skills and creativity to the aromatherapy market. There are people out there who love to wear art and who also love aromatherapy – people who appreciate this beautiful and natural combination. I am very proud of the craftsmanship that goes into each piece."
Aromatherapy Jewelry by HealthSpring Essentials is a collection that will continue to grow with new pieces being added weekly.
About HealthSpring Essentials
HealthSpring Essentials, based in Sedona, AZ, specializes in providing the finest quality aromatherapy diffusers, jewelry, tea light candles, and therapeutic essential oils on the web.
For more information about HealthSpring Essentials or to browse their wide selection of aromatherapy products, visit http://aromatherapy-diffuser.com or call Charlotte Howard at (928) 204-9015.
###