Mosaic Glass Candle Aromatherapy Diffusers
These incredibly beautiful Mosaic Glass Aromatherapy Diffusers are one-piece units and use small, tea light candles (can be purchased separately).
Be Careful! The whole diffuser gets HOT when in use and may take a little while to cool down. Do not move a lit candle diffuser.
This festive Gold Crackle Mosaic Glass Aromatherapy Diffuser is approximately 5.5 inches tall and about 4.25 inches wide. It has a 4 inch glass reservoir for water and essential oils. These mosaic glass aromatherapy diffusers are unique, due to the artistic arrangement and colors of the glass. This stunning diffuser is definitely for special occasions!

The bowl for this aromatherapy diffuser holds enough water to last a little more than halfway through the life of one tea light. It is recommended that more water is added after a while, to extend the life of the glass reservoir. Remember, never leave a lit candle diffuser unattended. Price: $24.95

This colorful Blue Sea Mosaic Glass Aromatherapy Diffuser is approximately 5.5 inches tall and about 4.25 inches wide. It has a 4 inch glass reservoir for water and essential oils. These mosaic glass aromatherapy diffusers are unique, due to the artistic arrangement and colors of the glass. This one is really pretty and brings a coastal, summery touch to any room. (The grout on this diffuser is white. It is hard to see this in the photograph.)

The bowl for this aromatherapy diffuser holds enough water to last a little more than halfway through the life of one tea light. It is recommended that more water is added after a while, to extend the life of the glass reservoir. Remember, never leave a lit candle diffuser unattended. Price: $24.95

This elegant Golden Horizon Mosaic Glass Aromatherapy Diffuser is approximately 5.5 inches tall and about 4.25 inches wide. It has a 4 inch glass reservoir for water and essential oils. These mosaic glass aromatherapy diffusers are unique, due to the artistic arrangement and colors of the glass. This diffuser is a perfect year-round complement to any room!

The bowl for this aromatherapy diffuser holds enough water to last a little more than halfway through the life of one tea light. It is recommended that more water is added after a while, to extend the life of the glass reservoir. Remember, never leave a lit candle diffuser unattended. Price: $24.95

This sophisticated Silver Crackle Mosaic Glass Aromatherapy Diffuser is approximately 5.5 inches tall and about 4.25 inches wide. It has a 4 inch glass reservoir for water and essential oils. These mosaic glass aromatherapy diffusers are unique, due to the artistic arrangement and colors of the glass. This diffuser can be for holidays or any day!

The bowl for this aromatherapy diffuser holds enough water to last a little more than halfway through the life of one tea light. It is recommended that more water is added after a while, to extend the life of the glass reservoir. Remember, never leave a lit candle diffuser unattended. Price: $24.95

This beautiful Champagne Petals Mosaic Glass Aromatherapy Diffuser is approximately 5.5 inches tall and about 4.25 inches wide. It has a 4 inch glass reservoir for water and essential oils. These mosaic glass aromatherapy diffusers are unique, due to the artistic arrangement and colors of the glass. This diffuser is perfect for gift-giving... even for yourself.

The bowl for this aromatherapy diffuser holds enough water to last a little more than halfway through the life of one tea light. It is recommended that more water is added after a while, to extend the life of the glass reservoir. Remember, never leave a lit candle diffuser unattended. Price: $24.95

This richly-colored, Red Petals Mosaic Glass Aromatherapy Diffuser is approximately 5.5 inches tall and about 4.25 inches wide. It has a 4 inch glass reservoir for water and essential oils. These mosaic glass aromatherapy diffusers are unique, due to the artistic arrangement and colors of the glass. This diffuser is warm and inviting!

The bowl for this aromatherapy diffuser holds enough water to last a little more than halfway through the life of one tea light. It is recommended that more water is added after a while, to extend the life of the glass reservoir. Remember, never leave a lit candle diffuser unattended. Price: $24.95

This lovely Clear, Opalescent Mosaic Glass Aromatherapy Diffuser is approximately 5.5 inches tall and about 4.25 inches wide. It has a 4 inch glass reservoir for water and essential oils. These mosaic glass aromatherapy diffusers are unique, due to the artistic arrangement and colors of the glass. This diffuser will accent any room.

The bowl for this aromatherapy diffuser holds enough water to last a little more than halfway through the life of one tea light. It is recommended that more water is added after a while, to extend the life of the glass reservoir. Remember, never leave a lit candle diffuser unattended. Price: $24.95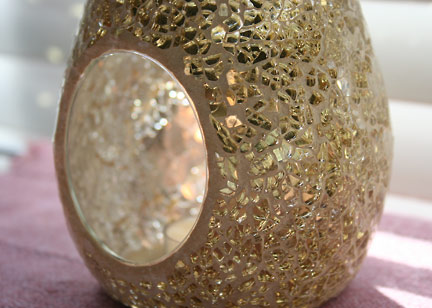 A Mosaic Glass Aromatherapy Diffuser up close. Just gorgeous!
(This color is sold-out)


Customer Care:
CALL (928) 204-9015
Monday - Friday
Office Hours: 10am-4pm
Arizona-Time

Ask for Charlotte Howard



--------------------------------------------------------------
A division of Charlotte Howard Enterprises, LLC
and part of the HealthSpring Essentials family of websites.

PO Box 3928
Sedona, AZ 86340
Inquiries: info@healthspringessentials.com
Copyright © 2010-2017 Charlotte Howard || ALL RIGHTS RESERVED! || Customer Care: CALL 928-204-9015
Website Design by SedonaWebDesigner.com
Quick Links
Aromatherapy Diffusers
Aromatherapy Diffuser Accessories
Aromatherapy Jewelry
Back To Top
Home Page | Sitemap | Policies