Aromatherapy Diffusers, Aroma Lamps, Jewelry, Essential Oils and Gifts by HealthSpring Essentials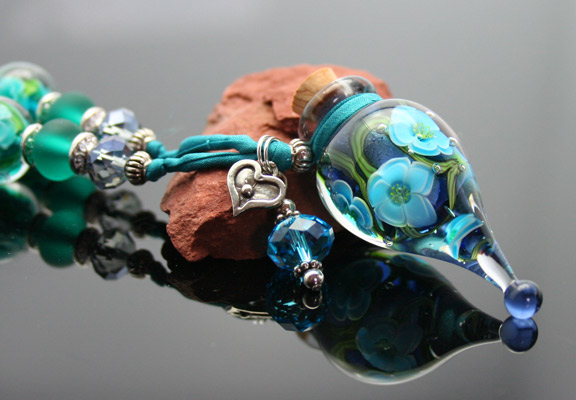 Looking for an Aromatherapy Diffuser?
We have Ceramic, Glass, Soapstone, Raku, and Electric Diffusers.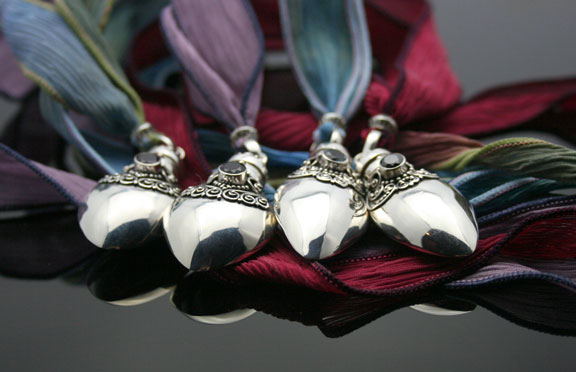 Sterling silver aromatherapy pendants from Bali
See All: Aromatherapy Jewelry: Necklaces, Pendants, Amphoras, and Lockets

Why use an Aromatherapy Diffuser?
Bring Nature Indoors
Using an Aroma Diffuser indoors brings you closer to nature. Busy lives and technology often keep us inside at our desks or in the car for way too many hours per day. Enjoying essential oils from the forest like Scotch Pine, Fir Balsam, or Cedarwood, or flower essences like Lavender, Melissa, or Neroli, help transport our psyche, if even for a moment, to a healing, pure place in our minds.
Your Health
Many pure essential oils like Thyme, Niaouli, Eucalyptus, and Tea Tree are anti-viral, anti-bacterial, and anti-microbial. They also support the respiratory system, can help clear the sinuses, and assist many other body functions. Please see our selection of Books on Aromatherapy to help you learn the many inspiring and appropriate uses of Therapeutic Aromatherapy. Using an aromatherapy nebulizer or an electric aromatherapy diffuser/ mister is the best way to use essential oils for healing.
Cleansing and Deodorizing
Pure essential oils are natural, and their powerful aromas can help deodorize and even cleanse the air in a room of micro-organisms, like Tea Tree, Lemon, Lavender, or Pine Needle Oils. They are not synthetic chemicals. They are natural plant and tree essences that support our bodies and add loveliness to the environment.
Emotional Support
Many essential oils are calming, balancing, soothing, and energizing (just to name a few characteristics). When used in Aroma Lamps, essential oils can help with anger, depression, lethargy, inability to focus, lack of courage, anxiety, grief, and many other issues. Clary Sage, Juniper, and Bergamot are just 3 of more than 100 essential oils I could list here.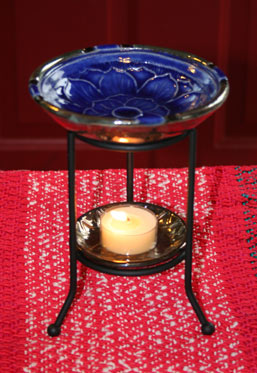 Ceremonies/Rituals
Diffusing pure essential oils like Frankincense, Rose, or Sandalwood can help deepen spiritual or intimate activities such as prayer, weddings, births, rights of passage, and holidays. Use our Raku Candle Diffusers for sacred purposes.
Dreamtime
Properly-chosen, pure essential oils can help people with insomnia, may enhance lucid dreaming, and assist people with remembering their dreams. Spikenard, Chamomile, Ho Wood, or Linaloe Berry are popular remedies for sleepless nights.
Meditation/Yoga
Pure essential oils like Lotus, Palo Santo, Cedarwood, Patchouli, and Angelica Root can deepen meditative practices and enhance yoga sessions. They can help clear the atmosphere, assist with grounding, and create a space for quiet relaxation to assist you on your journey towards inner peace.
Seasons and Weather
"Warm" the atmosphere in a room with Cinnamon or "cool" with Peppermint or Lemon, depending on the time of year. Natural aromas from essential oils can accent any holiday or festivity. When it is raining, add drops of Fir Balsam to your diffuser to surround yourself with the nourishing scent of a damp pine forest.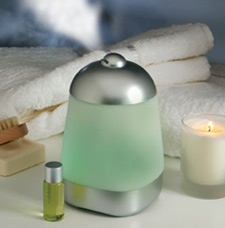 Improve Productivity at Work
Using an aromatherapy diffuser at work is a great way to boost productivity, lighten moods, enhance creativity and improve focus. Try Rosemary, Grapefruit, Lemon, or Myrtle essential oils and see the change to your work environment.
Safety
Using an aromatherapy diffuser may be a safer way of experiencing the magical and therapeutic essences of the plants and trees when compared to topical applications.
Love and Romance
Nothing can help one get "in the mood" better than scent. The sultry aromas of Ylang Ylang, Jasmine, Rose and Sandalwood in a sexy Aroma Lamp have been used for millennia to create just the right atmosphere for a romantic interlude.
Creativity
Diffusing essential oils can boost creativity. Use essences of Jasmine, Laurel, or Rosemary in your oil warmer for inspiration.
Insect Repellent
An Aromatherapy Diffuser is a very effective way to repel insects. Many fine essential oils like Geranium, Lemon Tea Tree, Citronella, and Lemon Eucalyptus can be used to keep the bugs away.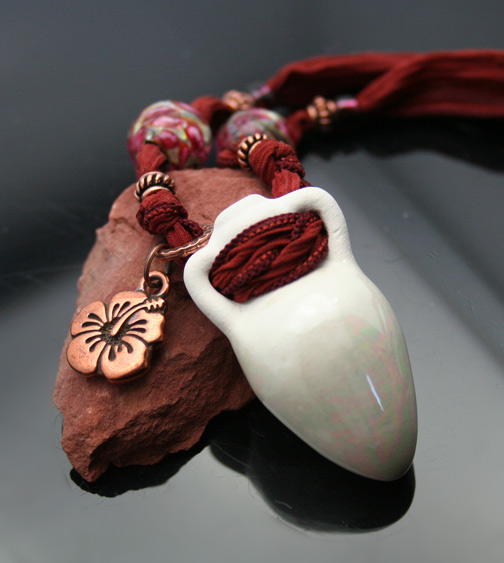 Mothering and Children
Aromatherapy diffusers in the home can help mothers relax, de-stress, and feel more loving. Pure essential oils help soothe and calm over-excited, emotional, or tired children. Lavender, Chamomile, Melissa, Geranium, and Fir Balsam are lovely oils to diffuse in a house full of kids. Moms can also wear a piece of beautiful Aromatherapy Jewelry during their day.
Assisting the Elderly
Diffusing just a few drops of essential oils like Lemon, Lavender, Jasmine, Rosemary, Rose, Clary Sage, or Chamomile may help relieve depression and anxiety in our elders who reside in assisted-living facilities.
Purification
Burning (smudging) sage in a room or building to purify is a lovely idea, unless you don't like the smoke. Diffusing Sage essential oil instead is a beautiful, powerful, alternative to burning the herb.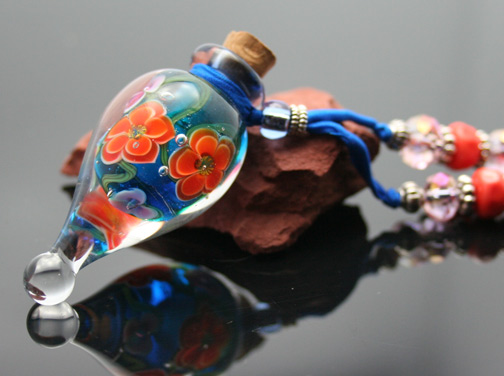 Legend and Myth: Connecting with The Past
Thyme has been used for thousands of years in many cultures as an herb for protection and health. It was believed that Thyme in the home encouraged fidelity, joy, good health, and courage. People throughout time have also used it to repel thieves, ward off nightmares, enhance psychic powers, mend lovers quarrels, attract customers to a place of business, and wash away the sorrows of the past. Imagine what diffusing Thyme essential oil in your home or business could do today...

*Sources for this page:
Personal experience
The Aromatherapy Book, Jeanne Rose
The Blossoming Heart, Robbi Zeck, ND
Aromatherapy for Healing the Spirit, Gabriel Mojay
Aromatherapy for Health Professionals, Shirley and Len Price
A Druid's Herbal, Ellen Evert Hopman
Clinical Aromatherapy, Jane Buckle
See more wonderful Books on Aromatherapy here.
Aromatherapy Workshops with Stillpoint... Living in Balance

**Make sure you research each essential oil you intend to use and understand any warnings or contraindications each oil might possibly have. Use pure essential oils responsibly and at your own risk.

How to choose the right Aromatherapy Diffuser
The size, style, price, therapeutic purpose or recreational use, and size of the room all play a part in choosing the right Aromatherapy Diffuser for your needs. You might want a variety on hand for different rooms and reasons. (I have one in my office, one in the children's bedrooms, and another one in my bedroom, that I also move around the house as needed.) Please see our selection of Aromatherapy Diffusers here.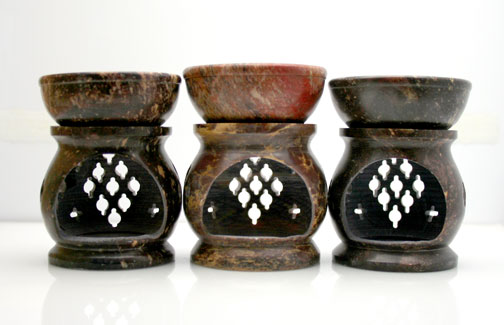 Beautiful, hand-carved, soapstone Aromatherapy Diffusers, Aroma Lamps, Oil Burners


Customer Care:
CALL (928) 204-9015
Monday - Friday
Office Hours: 10am-4pm
Arizona-Time

Ask for Charlotte Howard



Aromatherapy Diffusers make GREAT GIFTS!

Read: What makes an essential oil therapeutic?