Ceramic Candle Aromatherapy Diffusers, Made by Hand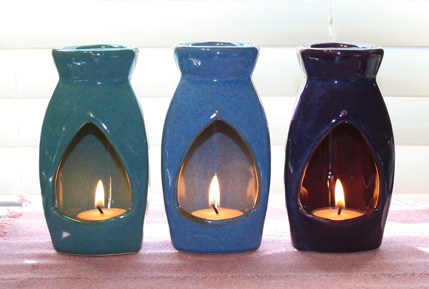 Another lovely candle aromatherapy diffuser. Hand-made, ceramic -- beautiful shapes and colors.
These Ceramic Aromatherapy Diffusers are one solid piece. They are approximately 5.75 inches tall and about 3 inches wide. The bowl for water and essential oils is about 2 inches wide. All ceramic diffusers are handmade glazed pottery and have unique colorations and shapes. Price $24.95 - Plum - One left
The Ceramic Aromatherapy Diffusers use small, tea light candles, which can be purchased here.
Be Careful! The whole diffuser gets HOT when in use and may take a little while to cool down. Do not move a lit candle diffuser.


Customer Care:
CALL (928) 204-9015
Monday - Friday
Office Hours: 10am-4pm
Arizona-Time

Ask for Charlotte Howard



--------------------------------------------------------------
A division of Charlotte Howard Enterprises, LLC
and part of the HealthSpring Essentials family of websites.

PO Box 3928
Sedona, AZ 86340
Inquiries: info@healthspringessentials.com
Copyright © 2010-2017 Charlotte Howard || ALL RIGHTS RESERVED! || Customer Care: CALL 928-204-9015
Website Design by SedonaWebDesigner.com
Quick Links
Aromatherapy Diffusers
Aromatherapy Diffuser Accessories
Aromatherapy Jewelry
Back To Top
Home Page | Sitemap | Policies