Aromatherapy Diffusers: How to Choose
Who is it for? What type of personality do they (or you) have? What essential oils will be used, and most importantly, why? Answering these questions will help you decide which kind of diffuser you should use.
One of the ways pure essential oils work is by scenting the air you breathe with therapeutic essences of the plants, flowers, and trees. An Aromatherapy Diffuser helps transport the healing essences to your nose and respiratory system. Below is a list of different kinds of diffusing methods and products to help you decide which aromatherapy diffuser is right for your needs. It is very possible that you use several types for different situations. We do!

1) Aromatherapy Jewelry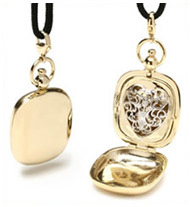 Aromatherapy Jewelry is a pretty way to enjoy the scent of pure essential oils throughout your day. These beautiful lockets are designed specifically for aromatherapy. They have a specially-designed wick inside the chamber that you place a couple drops of essential oils on. They are usually necklaces, key chains, or bracelets and can be quite pretty in silver and gold. We also carry small, faceted, glass bottles that adorn a silk ribbon with artistically-selected, decorative charms for company. Each lovely piece is delightfully unique and is sure to be a treasured gift for yourself or someone you really care about. These pieces can be romantic aromatherapy gifts and are perfect for mothers, girlfriends, wives - anyone who loves aromatherapy and jewelry! Prices vary.
See our fine selection of Aromatherapy Jewelry

2) Personal Aromatherapy Inhalers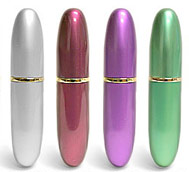 These small inhalers resemble a lipstick or lip balm tube. They have a small chamber that holds a special wick. You add drops of your pure essential oils into the chamber and seal it up. These can be carried in your pocket or purse and are a lovely and discreet way to inhale your favorite essential oils for therapeutic or emotional reasons. We carry the nicest kind - no plastic here!
See our Personal Aromatherapy Inhalers

3) Candle Aromatherapy Diffusers: Also called Aroma Lamps or Essential Oil Warmers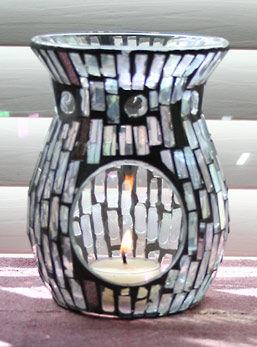 This type of aromatherapy diffuser uses a water dish and tea light candles for heat. They can come in 1, 2, or 3-piece units. There is usually a stand that a reservoir sits upon. Candle diffusers can be made out of soapstone, glass, clay (pottery), or metal. Many are hand-carved and are quite beautiful. You place a tealight inside the stand, or base, of the diffuser and add water to the dish on top. You then place drops of your favorite essential oils into the water and light the candle. The heat evaporates the scent into the air. These types of diffusers are sometimes used for ceremony or ritual purposes because the lighting of the candle helps set intentions or creates sacred space.
We have many different candle aromatherapy diffusers to choose from: Raku, Mosaic Glass, Asian Inspired, Glass and Metal, and hand-carved soapstone Aroma Lamps from India.

4) Aromatherapy (Spa) Misters and Tabletop Fountains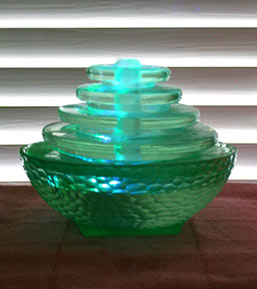 These units combine water, electricity, and a fine misting action that diffuses the essential oils into the air. They are cold-water systems and sometimes come with soothing lights and sounds. People who do not want their essential oils heated, or who live in dry climates really appreciate these types of diffusers. Many of them shut off automatically when the water level runs low. We also carry a lovely tabletop fountain with a soothing blue and green light feature. I place drops of essential oils in the water and the circulation helps the essential oils evaporate into the air. They are really lovely at night. The rotating colors create an "aurora borealis" type light show on the walls and ceiling.
See our selection of electric Aromatherapy Spa Mist Diffusers and Fountains

5) Aromatherapy Nebulizers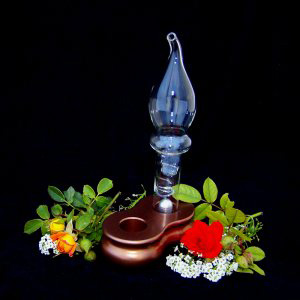 Nebulizers are electric units that send micro-particles of essential oils into the air. These are recommended for "sick rooms" or when coverage is needed for a large area. Using therapeutic-grade essential oils for respiratory illnesses with a nebulizer is very effective. Only the pure essential oil is diffused into the air as a very fine mist. More product is generally used this way. Many nebulizers come with handy timers and output controls. These can be the most expensive aromatherapy diffusers and are used in clinical, massage, or healing settings.
See which Aromatherapy Nebulizers we recommend.
Aromatherapy diffusers, jewelry, and nebulizers help you enjoy the benefits of pure essential oils whether they are for recreational or therapeutic reasons. You may find that you have several types at home or work for different situations. Read our Aromatherapy Blog for inspiration.