`
Etched Soapstone Aroma Diffusers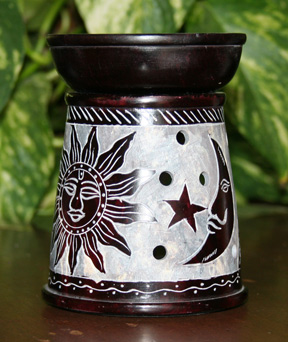 These beautiful aroma diffusers are hand-carved and etched from soapstone that has beed colored with dark blue or plum paint. They are then etched with beautiful designs and patterns. They use a tea light candle for warmth. We recommend regular beeswax tealight candles, which can be purchased here. These special aroma diffusers are from India and are unique, due to the artistry of the carver.
There are 4 sizes/styles to choose from:
Small, Plum with a star-burst and vine pattern
3.5 inches tall
Medium, Blue with a leaves and vines pattern
4 inches tall
Large, Blue with leaves and flowers
4.5 inches tall
Large, Plum with a sun and crescent moon pattern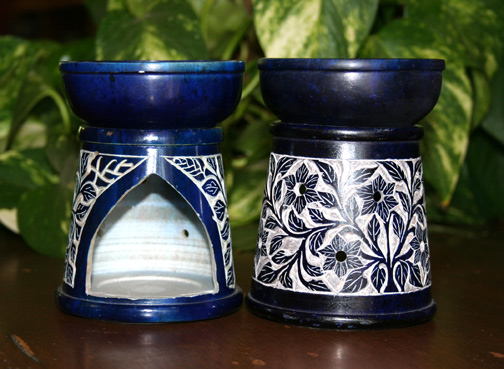 Large Blue Etched Aroma Diffuser with Flowers and Leaves - front and back pictured

Medium Blue Etched Aromatherapy Diffuser with Leaves and Vines - front and back pictured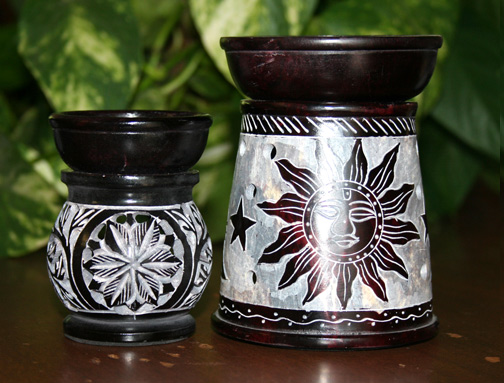 Small Plum Diffuser etched with a Starburst and Vines on the left.
Large Plum Diffuser on the right with Sun and Crescent Moon.