Aromatherapy Jewelry: Burgundy Radiance Pendant
Beautiful, clear, burgundy-red glass gracefully sit below a striking black glass top... This elegant, lampwork glass, aromatherapy bottle necklace lovingly holds your favorite essential oils in its well. Just open the natural cork and enjoy your favorite essences whenever you want thoughout the day. The bottle features beautiful copper beads and findings, zen crystal glass beads, and 2 beautiful, custom-made, lampwork, glass beads. It hangs from a super-soft strand of satiny-soft, black, pure silk cord that is hand-dyed and hand-sewn. The necklace is tied at the back of the neck with 2 slip knots, so you can adjust the length from 14 inches long to anything shorter. The bottle has been properly kiln annealed and cleaned and is 1 1/2" long. This Aromatherapy Necklace comes in a gauze pouch with a mini-pipette to easily add essential oils to the bottle. Price: $119.80 - ONLY 1 AVAILABLE!
This aromatherapy necklace is one of our premium designs. It features 4 custom, lampwork glass beads that are exquisite!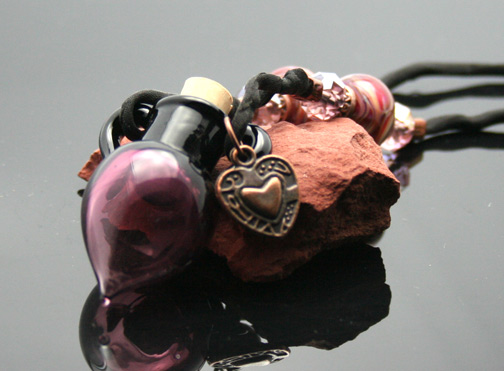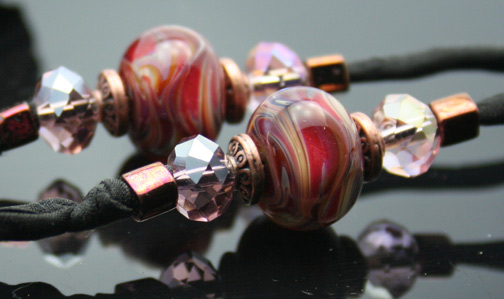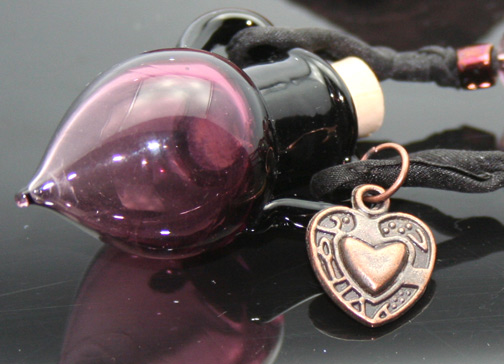 Customer Care:
CALL (928) 204-9015
Monday - Friday
Office Hours: 10am-4pm
Arizona-Time

Ask for Charlotte Howard



--------------------------------------------------------------
A division of Charlotte Howard Enterprises, LLC
and part of the HealthSpring Essentials family of websites.

PO Box 3928
Sedona, AZ 86340
Inquiries: info@healthspringessentials.com
Copyright © 2010-2017 Charlotte Howard || ALL RIGHTS RESERVED! || Customer Care: CALL 928-204-9015
Website Design by SedonaWebDesigner.com
Quick Links
Aromatherapy Diffusers
Aromatherapy Diffuser Accessories
Aromatherapy Jewelry
Back To Top
Home Page | Sitemap | Policies