Silver Aromatherapy Jewelry from Bali
These polished, sterling silver aromatherapy pendants were created in Bali. They are actually bottles with a clever lid that holds your essential oils. Just open the top and enjoy your favorite essences whenever the need arises. The pendant features beautiful Balinese scroll work and a single gem on the top of the lid. You can choose from Amethyst, Garnet, or Sky Blue Topaz. The bottle size varies slightly from 1 1/4 - 1 1/2 inches long. They hang from a lovely pieces of hand-dyed, hand-sewn, silk ribbon that is ~34 inches long. You can tie it to whatever length suits you. This Aromatherapy Necklace comes in a gauze pouch with a mini-pipette to easily add essential oils to the bottle. Price: $91.00 - ONLY 1 of each available.
The Amethyst necklace is paired with either a solid lavender silk ribbon or a watercolored silk ribbon with sage green, dusty blues and purple.
The Garnet necklace hangs from a solid, beautiful deep red silk ribbon.
The Sky Blue Topaz necklace hangs from a silk ribbon that has various blue and green watercolors.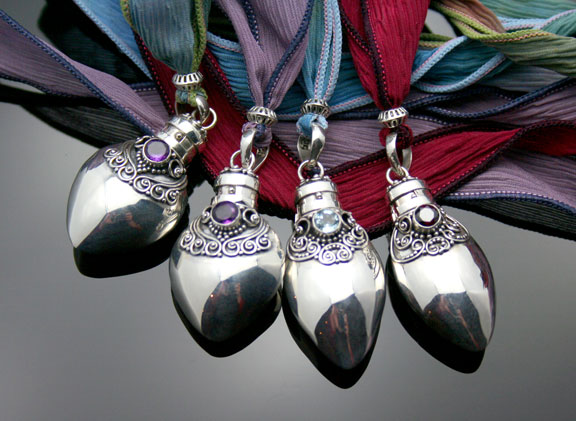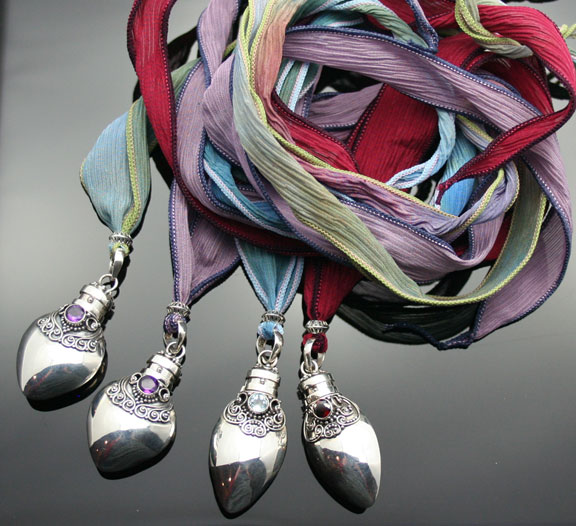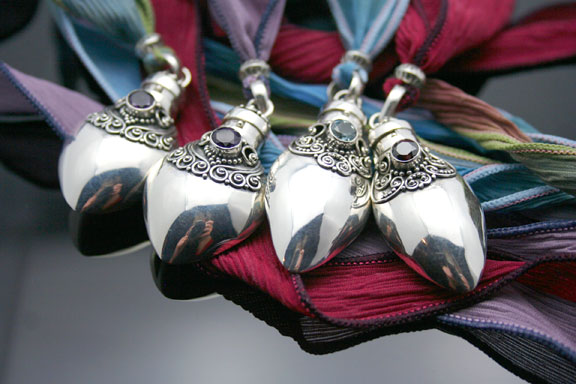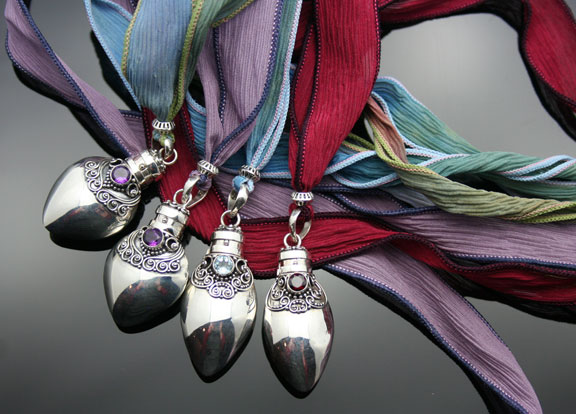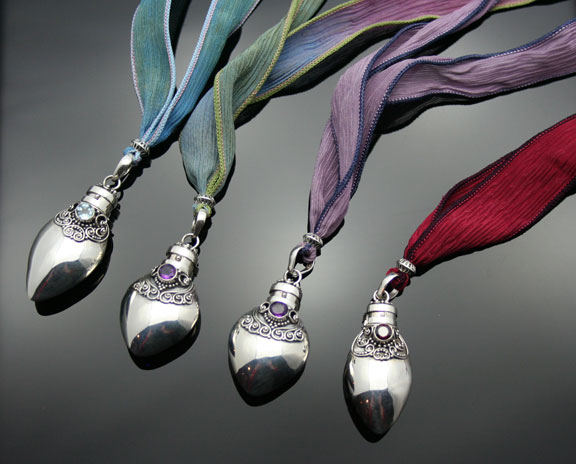 Customer Care:
CALL (928) 204-9015
Monday - Friday
Office Hours: 10am-4pm
Arizona-Time

Ask for Charlotte Howard



--------------------------------------------------------------
A division of Charlotte Howard Enterprises, LLC
and part of the HealthSpring Essentials family of websites.

PO Box 3928
Sedona, AZ 86340
Inquiries: info@healthspringessentials.com
Copyright © 2010-2017 Charlotte Howard || ALL RIGHTS RESERVED! || Customer Care: CALL 928-204-9015
Website Design by SedonaWebDesigner.com
Quick Links
Aromatherapy Diffusers
Aromatherapy Diffuser Accessories
Aromatherapy Jewelry
Back To Top
Home Page | Sitemap | Policies