Aromatherapy Jewelry: Spring Equinox
Deep green and swirling metallic water blues describes this impressive artisan glass aromatherapy bottle necklace. It safely holds your favorite essential oils in its well. Just open the 5/16" natural cork and enjoy your favorite essences whenever you want thoughout the day. The bottle features beautiful sterling silver wire work, 3 Swarovski crystals, 6 lampwork glass beads, 4 zen crystal beads, 2 sterling silver charms, and 12 sterling silver and pewter beads. It hangs from a strand of satiny-soft, forest green, pure silk cord that is hand-dyed and hand-sewn. The necklace is tied at the back of the neck with 2 slip knots, so you can adjust the length from 13.5 inches long to anything shorter. The bottle has been properly kiln annealed and cleaned and is 1 7/8" long. This Aromatherapy Necklace comes in a gauze pouch with a mini-pipette to easily add essential oils to the bottle. Price: $174.70 - SOLD!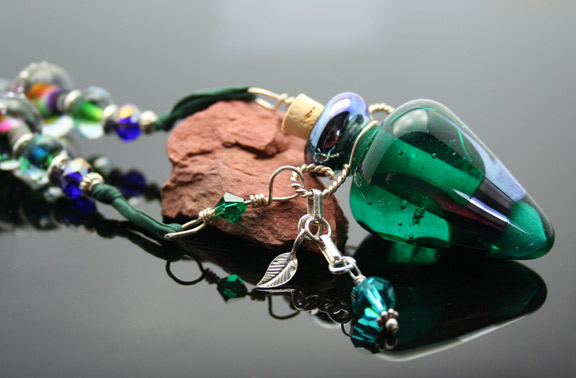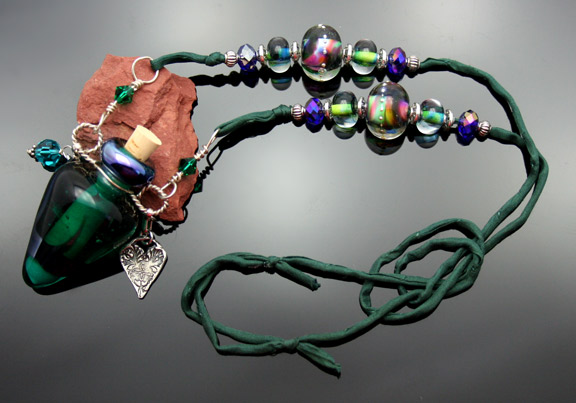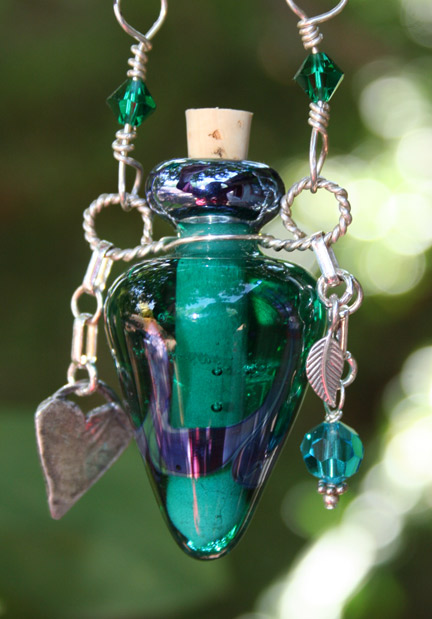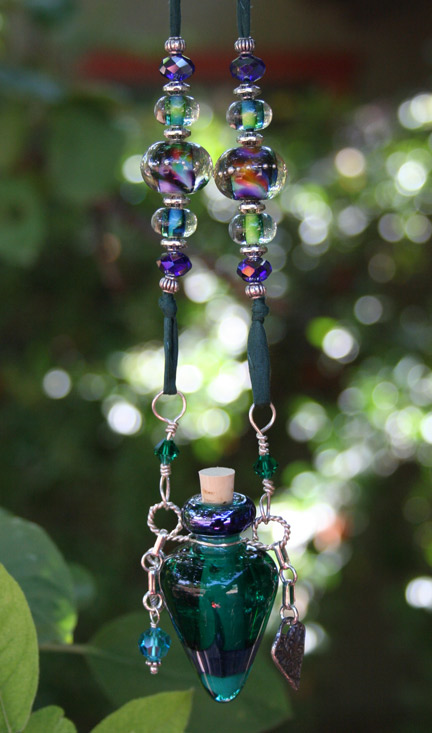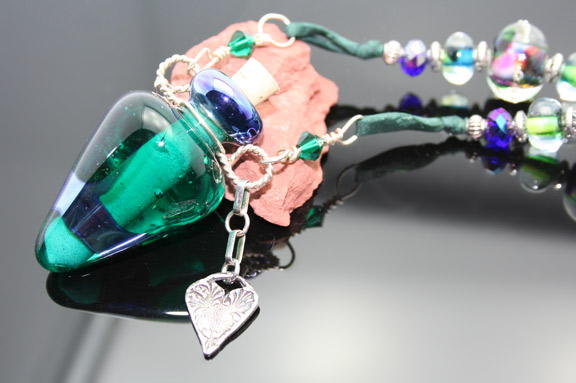 with flash

Imagine a crystal clear, deep blue lake hidden in an emerald green forest.
That is this necklace. For aromatherapy enthusiast only!

Customer Care:
CALL (928) 204-9015
Monday - Friday
Office Hours: 10am-4pm
Arizona-Time

Ask for Charlotte Howard



--------------------------------------------------------------
A division of Charlotte Howard Enterprises, LLC
and part of the HealthSpring Essentials family of websites.

PO Box 3928
Sedona, AZ 86340
Inquiries: info@healthspringessentials.com
Copyright © 2010-2017 Charlotte Howard || ALL RIGHTS RESERVED! || Customer Care: CALL 928-204-9015
Website Design by SedonaWebDesigner.com
Quick Links
Aromatherapy Diffusers
Aromatherapy Diffuser Accessories
Aromatherapy Jewelry
Back To Top
Home Page | Sitemap | Policies